What is a Halloween Party without Halloween Food?
A party is not a party unless the fun includes plenty of great food and drinks. It also depends on whether this is a kids party, a teenage party or an adult party.
This calls for planning ahead. To have a great party first make sure other things, like your costumes are well taken care of ahead of time so you have some time to deal with the food. It doesn't have to be gourmet quality – but well,  just imaginative. Let your creativity soar.
Eyeballs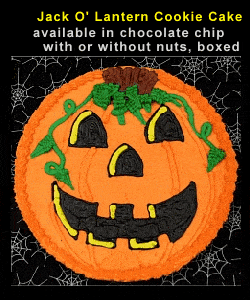 You can buy donut holes covered in powdered sugar. Then take chocolate chips and make an eyeball and get some red icing gel and stick it on and make drizzles around the side of the donut hole. Rather realistic I would say, and a lot of fun to boot.
Tomato Soup
Now tomato soupis sort of red and bloody looking isn't it? Use a good tasting tomato soup and put in a stalk of celery and a plastic spider on top of it.
Halloween Jello Molds
– I know jello, yuk. But, that is the idea. Here yuk is good. There are heart jello molds, brain jello molds, hand jello molds, whole face jello molds and eye jello molds. There is a site online called buycheap.com – do a Google search and of course there is Amazon.
Beverages
You can always count on everyone being thirsty. All you need is some ordinary drinks dressed up a bit.
Punch – One way to wet their whistle is with punch. No matter what the flavor, you want it to look as scary as possible. Use food coloring to darken the punch (black cauldron bubble) or brighten it (bucket of blood punch). To add to the frightful appearance, get Halloween molds from Amazon and pour water and coloring in them and freeze them. For instance a hand mold filled with lime juice and green food coloring. Put this in your punch.
Sodas – Ordinary sodas can take on the ghoulish for one night. Use decorative plastic Halloween cups for your sodas. Add different colored whipped cream to the top and orange, black and purple straws. For more adult beverages, add new labels to the cans and bottles in keeping with the theme of the night (for instance Witch's Brew, Dracula's Ale, Lager Of Lost Souls, or Blood Wine).
Finger Foods
In this case, we really may mean "finger foods." Start with these ideas and see how spooky you can get.
Witch fingers – This is one of the most popular ideas. You can use sugar cookie dough and shape it onto long, thin strips to resemble fingers. Also you can color the dough green. While the cookies cool, press half an almond in one end to look like a fingernail. Use red gel to fashion some dripping blood if you like.
Cupcake Creations – If you are short on time, buy store cupcakes and add decorative magic. Black or orange icing plus sprinkles or pumpkin candy works for most kids. For older children, add Gummi worms, dirt sprinkles, and skeleton drawings in the icing or licorice strands to become spider legs.
Snot and Worms
Refrigerate yellow and green jello in cubes and put gummy worms in them
Cake – well, sorta of
take a regular sheet cake and cover with white frosting. Get red icing gel and and make blodd and put in the center something gruesome like a jeloo mold severed had with red icing gel or what about a pile of donut eyeballs. Sounds yummy!
Once you get started and sit down and think about it you will come up with all kinds of weird Halloween food.
I would love to hear about some of the inventions.