Halloween is on October 31st and its getting closer.  Where will you be and what will you be doing on that date? If you are planning a Halloween party, here are some great ideas to keep your party eerie, frightening, and fun.
The Main idea here is of course to be "Spooky"
Well, what else would you want on Halloween? That is why its so much fun. There is something about spooky and sinister that the human spirit just loves. Nothing is off limits; the spookier, the better. Fine tune your scare tactics and bring your most ghoulish dreams to reality with a spooky Halloween party.
Kid's and Youth Party Theme Ideas
The possibilities are endless, kids love Halloween, they love playing dress up. They of course love the treats too. Try some of these ideas – Scary Monster Theme, Bad Guy Theme, Favorite Movie or Television Character, Jack-o-lantern Costume Theme, Princess Costume Theme. With a pen and paper and a few kids sitting around – I bet you can come up with a lot of ideas for a theme.
Teenage Party Ideas
Now of course this is a little more difficult. When we are also talking teenagers we have to keep in mind they will have to monitored – ah, probably more then the kids party. Anyway, they really like getting into this whole scary thing. Start here….Vampire Party, Favorite Undead Character, Favorite Ghoulish Mask, Twilight, Psychedelic
Throwing an all Adult Halloween Party?
Why not for heavens sake? Adults work hard in today's economy and this might be just a great treat they will appreciate. Try these ideas – So Sexy Monster Theme, Murder Mystery Night, Re-visit the 60s 70s 80s 90s, Nightie Night Pajama Party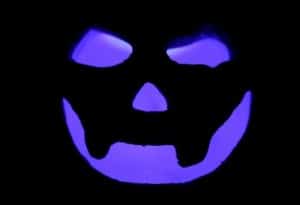 If you are throwing an all-adult party, be sure to plan for a long night. Make it fun and worth the extra effort it takes to plan and execute a costume to fit the theme. Find a babysitter whose willing to stay into the wee hours so you and your guests can howl at the moon. Couple parties as well as all-girl or guys night parties are especially fun for Halloween. Create some fun with this night away from the stress of work and family responsibilities.
Now Plan the Party
As with any party, the first step is the planning. If Halloween falls on a weekend, great. Otherwise, choose a non-workday and non-school day that's close to Halloween for the best result. If you pick a day too far before or after Halloween, you will lose the festive feeling. Unlike Christmas, the 'season' for Halloween is short.
Halloween falls on the same day every year, so we all know it's coming, and when! Sometimes the success of a party boils down to who gets their invitations out first. You will need to send out invitations before the social calendars fill up. Hash out the particulars of your party and let everyone know about the theme so they can get their costumes together. Once the invitations are out, get the decorations and food planned and ready. And, don't forget your own costume! We, will try to help with the planning in further posts! But, relax – and try not to do this all at the last minute – that would take away from the fun for you, after all you are suppose to have fun too.